Triangle Thunder win the 2018 CWBC Conference Tournament!!
After going undefeated in the month of February (see the Important Announcements section), we went to the CWBC Conference Tournament this past weekend, which was held in North Myrtle Beach, South Carolina, and we obtained the number one seed in the tournament. We continued our winning ways as we were victorious in our three games in the tournament, finishing the regular season at 20- 5, and claiming our first ever CWBC Conference Tournament Championship! Read more.....
Thunder invited to NWBA DIII National Tournament in Louisville, Kentucky.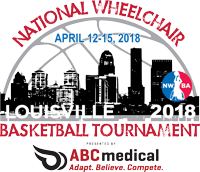 The National Wheelchair Basketball Association and Louisville Sports Commission are excited to play host to the 70th anniversary of the National Wheelchair Basketball Tournament (NWBT), presented by ABC Medical, on April 12-15 in Louisville, Kentucky. The NWBT has been held in Louisville since 2013, with this being the 11th time the tournament has called Kentucky home.