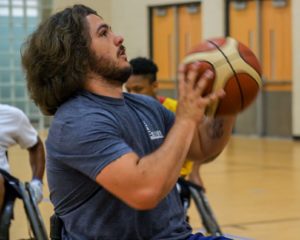 Thunder D3
Forward
Class 2.0
When did you start playing wheelchair basketball?  July 2018
What part of wheelchair basketball do you enjoy most?  The comradery with my teammates!  Being with guys who really get what I'm going through.  Knowing that they have or are experiencing the same things I am and they are pushing through it gives me hope and inspiration that I WILL be ok.
Who is your favorite basketball player of all-time?  Michael Jordan #23
How would you describe yourself, in three words?  Three words that describe me are:  outgoing, funny, and hopeful
What is your favorite movie?  My favorite movie is Nacho Libre.  "The yolk inside the egg gives you eagle powers."
Who is your favorite NBA team?  My favorite NBA team is the Celtic's
Where would you like to go for a dream vacation?  My dream vacation would be to Bora Bora!
Who is your role model?  My mom is my role model.  She try's to always have a positive attitude and outlook and encourages me to do the same!  She is very giving and selfless!  She gives 100% all the time to our family and all those around her!